On Tour: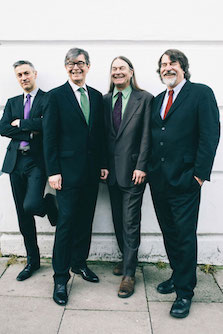 Brubecks Play Brubeck features Darius, Chris and Dan Brubeck and the UK sax star, Dave O'Higgins. Critics and audiences alike respond to the personal involvement, musical interplay and joy on stage as the group performs music created by one of American music's all-time greats.

Available / On Tour:
September, October 2018
---
Arto Lindsay (b. 1953) has stood at the intersection of music and art for more than four decades. His brand new album Cuidado Madame will be released in April 2017. In co-operation with PONDEROSA MUSIC & ART / ITALY.

Available / On Tour:
July 2017
---
Combining passion, intelligence and outstanding technique in music, Al Di Meola is one of the most prominent virtuosos and most influential guitarists in the contemporary instrumental jazz field. Each concert is a true highlight!

Available / On Tour:
May, June, July, October, November 2017
---
Artist Infos:

Promoters' Section
Our Promoters' Section offers a huge variety of artist information files for your convenience. For copyright reasons its content has to be password protected. Please ask for user name and password when getting in touch with us. This will grant you access to:

- high-quality photos,
- videos,
- press reviews,
- riders,
- stage plots,

and all other information you are in need of.


To access the Promoters' Section please follow this link and enter user name and password as provided:


https://www.novaconcerts.com/artistinfos

If you have any questions, please contact us at:
support@novaconcerts.com


Please note: this media library is constantly growing and we try to keep it up to date. Nevertheless some of the information you are looking for might still be missing. In case you cannot find a certain item do not hesitate to contact us and we will see whether we can upload the file for you.