On Tour:
The pianist, singer and composer Clara Ponty's diverse musical background is the source of inspiration for the development of her eclectic musical body of work. A new vocal album, "Sticks and Stones" will be released in 2018!

Available / On Tour:
Generally available 2018
---
A towering figure in reggae music, Jamaican-British musician and poet Linton Kwesi Johnson is the inventor of 'dub poetry' consisting of spoken word over reggae rhythms. His performance poetry involves the recitation of his own verse in Jamaican Patois dealing mainly with the experiences of being an African-Caribbean in Britain.

Available / On Tour:
Generally available for festivals and special events in 2018 & 2019
---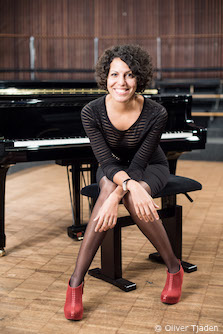 Winner of the Montreux Jazzfestival Solo Piano Competition in 2012, Cuban pianist Marialy Pacheco combines Caribbean temperament and excellent technique to produce a truly breath-taking music full of virtuosity, authenticity and joy in performing.

Available / On Tour:
March - October 2018 (Europe)
---
Touring Information:
Newsletter Service
Subscribing to our free regular newsletter is the easiest way to stay in touch with us! We will keep you informed about upcoming tours and availabilities of our artists.


Please note: This service is chiefly meant for people promoting and organizing concerts and festivals! You can remove your address from the mailing list any time you like.


---