On Tour:
Combining passion, intelligence and outstanding technique in music, Al Di Meola is one of the most prominent virtuosos and most influential guitarists in the contemporary instrumental jazz field. Each concert is a true highlight! In conjunction with The Kurland Agency

Available / On Tour:
Open Dates: May 04, 05, 06, 07, 08 + May 15, 16, 17 (2023)
---
A pianist of tremendous technique and agility, Camilo's mixture of his native Caribbean rhythms with traditional jazz harmony enthrals audiences all over the world. In cooperation with Sandra Camilo, Artist Management, Redondo Music (USA).

Available / On Tour:
July, August, October, November 2023 & April, May 2024
---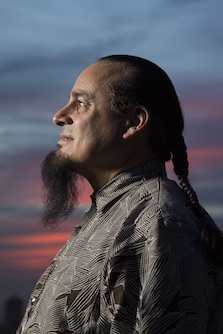 One of the world's preeminent jazz innovators, trombonist and seashellist Steve Turre will tour Europe in 2016! In cooperation with: The Management Ark, Princeton, NJ, USA

Available / On Tour:
June, July, October, November 2023
---
Impressum:
Legal Info
The party responsible for the content of this website is:
Verantwortlich für den Inhalt dieser Webseite ist:

Nova Concerts International
Booking Agency for Jazz, Worldmusic and Pop

Contact:
Email: wolf@novaconcerts.com
Website: www.novaconcerts.com
Telefon: +33 - 5535 852 56

Webdesign:
Email: support@novaconcerts.com



Disclaimer / Haftungsbeschränkung
The content of this website is created with greatest care. However, we are not liable for correctness, completeness and actuality of the content provided. Visitors use the website at their own risk. Plain usage of the website does not lead to any kind of contract between the user and the provider of this website.

Die Inhalte dieser Website werden mit größmöglicher Sorgfalt erstellt. Der Anbieter übernimmt jedoch keine Gewähr für die Richtigkeit, Vollständigkeit und Aktualität der bereitgestellten Inhalte. Die Nutzung der Inhalte der Website erfolgt auf eigene Gefahr des Nutzers. Mit der reinen Nutzung der Website des Anbieters kommt keinerlei Vertragsverhältnis zwischen dem Nutzer und dem Anbieter zustande.


External links / Externe Links
This website contains links to third pary websites ("external links"). Despite dilligently checking the content of these websites we cannot be liable for their content. If we get to know possible legal violations we will delete the respective links immediately.

Diese Website enthält Verknüpfungen zu Websites Dritter ("externe Links"). Trotz sorgfältiger inhaltlicher Überprüfung können wir keine Haftung für die Inhalte dieser Links übernehmen. Die verlinkten Webseiten unterliegen der Haftung der jeweiligen Betreiber. Bei Kenntnis von Rechtsverstößen werden wir externe Links unverzüglich löschen.


Copyright information / Urheber- und Leistungsschutzrechte
Unless otherwise specified the content of this website underlies German copyright laws. Copying, editing, translating, saving, reproducing the content in databases or other electronic media or systems requires prior written confirmation by the copyright owner. However, you are allowed to download and copy content for your own personal, private, non commercial use.

Wenn nicht anders gekennzeichnet, unterliegen die auf dieser Website veröffentlichten Inhalte dem deutschen Urheber- und Leistungsschutzrecht. Jede vom deutschen Urheber- und Leistungsschutzrecht nicht zugelassene Verwertung bedarf der vorherigen schriftlichen Zustimmung des Anbieters oder jeweiligen Rechteinhabers. Dies gilt insbesondere für Vervielfältigung, Bearbeitung, Übersetzung, Einspeicherung, Verarbeitung bzw. Wiedergabe von Inhalten in Datenbanken oder anderen elektronischen Medien und Systemen. Die unerlaubte Vervielfältigung oder Weitergabe einzelner Inhalte oder kompletter Seiten ist nicht gestattet und strafbar. Lediglich die Herstellung von Kopien und Downloads für den persönlichen, privaten und nicht kommerziellen Gebrauch ist erlaubt.


Privacy policy / Datenschutzerklärung
For data privacy issues please read the extensive information on this special page dedicated to our privacy policy.

Bitte entnehmen Sie ausführliche Information zum Datenschutz unserer speziellen Seite zur: Datenschutzerklärung.


These legal information were created with support from Juraforum.de