On Tour: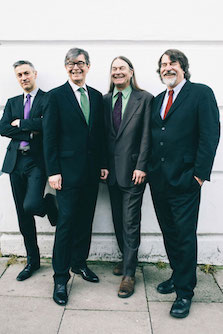 Brubecks Play Brubeck features Darius, Chris and Dan Brubeck and the UK sax star, Dave O'Higgins. Critics and audiences alike respond to the personal involvement, musical interplay and joy on stage as the group performs music created by one of American music's all-time greats.

Available / On Tour:
September, October 2018
---
Arto Lindsay (b. 1953) has stood at the intersection of music and art for more than four decades. His brand new album Cuidado Madame will be released in April 2017. In co-operation with PONDEROSA MUSIC & ART / ITALY.

Available / On Tour:
July 2017
---
Combining passion, intelligence and outstanding technique in music, Al Di Meola is one of the most prominent virtuosos and most influential guitarists in the contemporary instrumental jazz field. Each concert is a true highlight!

Available / On Tour:
May, June, July, October, November 2017
---
Booking Enquiries:
Individual Artist
You are interested in booking a particular artist or group for your event? Then use this form for your enquiry! We will be happy to contact you with availability details and concert information.
---